Ketogenic Diet, Keto diet for short is a very low carb, medium protein, high-fat diet that has become very popular recently. I will be discussing ketogenic food plans for beginners, what foods to avoid during a keto diet, and give you a basic weekly meal plan for getting started.
How a Ketogenic Diet Works?
A Ketogenic diet induces a very low carb diet and instead opts for high fat intake, this subsequently puts the body into a metabolic state called Ketosis. During Ketosis, your body will be incredibly efficient at burning off those fats you have gained under your skin. A ketogenic diet also lowers your insulin and blood sugar level which is incredibly beneficial for the best working organ system.
Ketogenic Diet and Weight Loss
Scientifically proven that a Ketogenic diet is very good when it comes to losing weight. Research shows that the Keto Diet is far superior to the low calorie based diet. Another benefit of the Keto diet is that you don't have to count your calories or track your food intake. One study shows that people on a ketogenic diet lost 2.2 times more weight than those on a calorie-restricted low-fat diet. Something often ignored is the benefits gained from protein intake like higher muscle mass, reduced appetite, reduced hunger levels. The increased level of Ketones in your body will help lower your blood sugar level while also keeping your insulin levels in check.
Ketogenic Diet effect on Diabetes and Prediabetes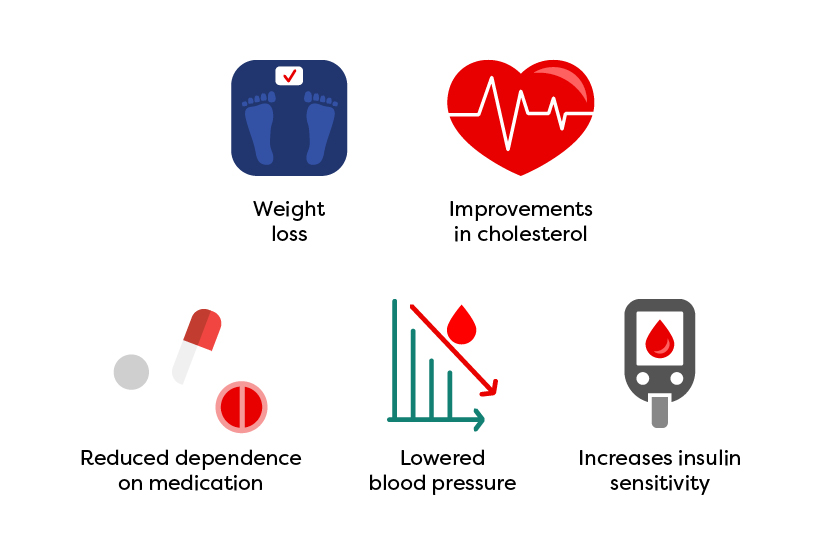 Diabetes is recognized by changes in metabolism, high blood sugar, and impaired insulin function. The Keto diet causes weight loss, reduces blood sugar, and also increases insulin sensitivity by 75%. This contains extremely beneficial effects for people who suffer from type 2 diabetes and prediabetes. Low-carb diets normalize the cross-talk between fat from your fat cells and the insulin from the pancreas.
Food to Eat and Avoid During Keto Diet
Food to Eat
Meat: Steak, Red meat, Chicken (We skipped ham and pork)
Eggs
Cheese: Unprocessed variants like cheddar, goat, cream, blue, mozzarella.
Avocados: Or guacamole
Seafood: Squid, octopus, oysters, clams
Low Carb Vegetable: spinach, broccoli, zucchini
Foods to Avoid
Sugary Foods: Cake, soda, ice cream, candy
Fruit: All fruit
Alcohol: Carb content in alcohol can hinder ketosis
Unhealthy Fats: Processed vegetable oil, mayonnaise, etc.
Low fat or diet products: Often high in carbohydrate levels and are processed
Beans: Peas, kidney beans, lentils
Low fat or diet products: Often high in carbohydrate levels and are processed
Beans: Peas, kidney beans, lentils
Keto Meal
What is a keto meal?
A keto meal is a meal that contains under 50g carbs and provides around 30g of net carbs per day. Net carbs are the total carbs in your body minus the fiber. Fiber is essential because it protects the body, helps with digestive functions and also helps in preventing constipation. Your Glycemic Index (G.I) is also valued to help you maintain your keto meal plan.
According to sources a Keto diet contains approximately:
55-60% Fats
30-35% Protein
5-10% Carbohydrates
A Study in the Journal of Nutrition Metabolism states that those who follow a strictly formulated keto diet usually consume around 50g of carbs and 1.5g of protein per kg of body weight per day. In order to stick to these ratios, most experts believe it is essential to plan meals accordingly.
I will be giving you a balanced Keto Meal Plan for beginners which is easy to follow:
| | | | |
| --- | --- | --- | --- |
| Days | Breakfast | Lunch | Dinner |
| Sunday | Sheet pan eggs and bacon | Broccoli and quinoa salad | Crockpot no noodle chicken soup |
| Monday | Keto banana, walnut, bread and bacon | Broccoli and quinoa salad | Crockpot Italian Swiss steak with cauliflower rice |
| Tuesday | Sheet pan eggs and bacon | Loaded chicken salad with veggies | Crockpot no noodle chicken soup |
| Wednesday | Keto banana, walnut, bread and bacon | Loaded chicken salad with veggies | Slow cooker balsamic chicken with broccoli |
| Thursday | Green chili chicken egg cups | Cheeseburger soup | Slow cooker chipotle pork with cauliflower rice |
| Friday | Cream cheese pancake with bacon | Cheeseburger soup | Slow cooker turkey stuffed peppers |
| Saturday | Cream cheese pancake with bacon | Keto zucchini pizza bites | Slow cooker red wine, beef briksets with asparagus |
Keto Meal Plan